EXPLORE THE ECOLITE ADVANTAGE
Light-weight lift.
Light-weight lift on all sizes, adhering to OH&S guidelines.
EDCM, GAA and IDM Approved
R&S Grating's SMC Ecolite range are approved for use in all EDCM, GAA and IDM authority areas.
UV Resistant
SMC Ecolites feature triple UV protection. The naturally UV resistant SMC material has an additional UV-resistant compound added and the final product includes a UV resistant paint coating for added protection.
Strong
Available in class B and class C of AS3996:2019, SMC Ecolites are well suited to behind kerb vehicle loading, such as cars, buses and trucks.
Secure
With anti-dislodgement pins or optional hinge, SMC Ecolites include double lockdown, with a stainless steel grade 316 locking mechanism used for opening and closing the lid. All SMC Ecolites are operable with standard AS3996 lifting keys.
Anti-slip
All SMC Ecolites feature R&S Grating's anti-slip boomerang pattern, obtaining an SRV anti-slip result of 78 or a class P5 rating to AS4586:2013.
AS3996:2019 Compliant
SMC Ecolites are fully compliant to the requirements of AS3996:2019 the Australian Standard for Access Covers & Grates.
Colour Options
Available in green, grey and charcoal colours.
SMC Ecolites are stocked in three standard colours: green, grey and charcoal.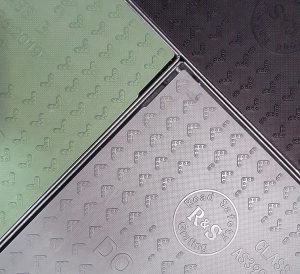 SMC Ecolites are stocked in a range of sizes to suit industry standard pits:

– 450x450mm
– 600x600mm
– 750x750mm
– 900x600mm
– 900x900mm
– 1000x750mm
Additional sizes are also stocked for Council specific pit sizes.
SMC Ecolites for EDCM, GAA & IDM Authorities
In a move designed to standardise drainage infrastructure across Melbourne's growth areas, many councils have adopted the designs of the EDCM (Engineering Design & Construction Manual), GAA (Growth Area Autority) and IDM (Infrastructure Design Manual).
R&S Grating stock all EDCM, GAA and IDM products, offering very competitive package pricing for new estates.  In addition 
EDCM, GAA & IDM Package Pricing
R&S Grating offer very competitive package pricing for land development contractors, able to supply all products specified in the EDCM, GAA and IDM, in a single delivery or as required.
Get Your Quote Today
With an estimating team at your disposal, simply email through estate plans and the team will organise a written package quote for the Estate.
5 Year Warranty
SMC Ecolites are backed by R&S Grating's 5 year product warranty, offering peace of mind that our lids will stand the test of time.
SMC Ecolites for Residential Retention Pits
With a large range of sizes available, SMC Ecolites are ideal for covering orifice and detention pits, allowing light and easy access for maintenance, while providing a strong and trafficable lid.
Available in green for garden beds and lawns, grey for concrete and charcoal for asphalt and darker exposed aggregates, SMC Ecolites can be easily paired with an R&S Grating EGAL or Eco-weaved grate to complete the detention system.
Contact us today or email through your plans and our Estimating team will recommend a solution and prepare a quote.